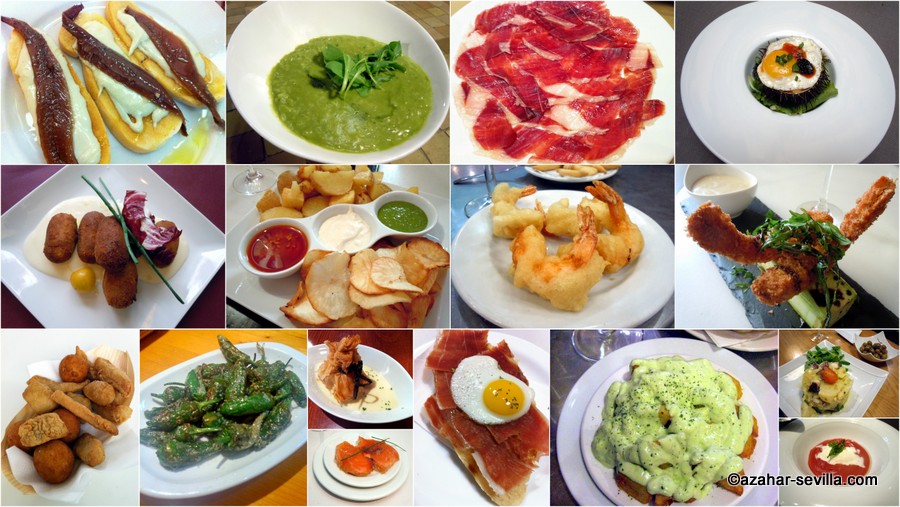 With our relaxed and casual tapas tours you can experience some of Sevilla's best tapas bars and sample an excellent selection of tapas & wines. Lunchtime (13.00 – 16.30) or evening (20.00 – 23.30) tours are available, with all-inclusive prices. A typical tapas tour (known as "el tapeo" in Spanish) will include visiting three bars and having a couple of tapas and a drink at each place. There are several tours available, each focusing on one particular barrio (neighbourhood), and the usual duration is approximately 3.5 hours.
Because tapas bars tend to be small and often quite crowded, groups are limited to 2-6 people. Sometimes you will be standing up at the bar, other times it will be possible to find a table, or even book a table in advance.
Larger groups of 6-10 can also be accommodated with a slightly modified itinerary.
You will be encouraged to order your own food & drink and will also be given a list of food translations, as well as other "rutas de tapas" that you can try out another day on your own, with your newly acquired knowledge of Spanish cuisine.
Special requests (eg. vegetarian and other food preferences) are taken, though some barrios may not be available and other differences may apply.
For more information or to book a tour contact us at: