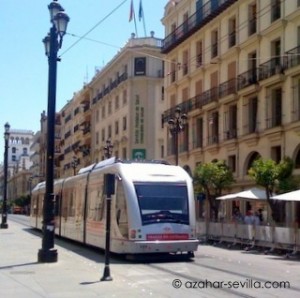 The "casca antigua", or the centre of Seville within the old city walls, is quite small and easily walkable, and the best way to get around is on foot. It's easy to get lost though, so be sure to take a map with you. If you can't get one from your hotel or apartment go to the tourist office. The most central ones are located at Avenida de la Constitución 21B and in Plaza San Francisco.
Here are some other ways of getting around town…
Public Transit – There aren't many buses in the centre, but the buses that run around the inner ring road can be useful, and most stops have maps. The new tramway connects San Bernardo train station and San Sebastian bus station to the Plaza Nueva. The fare is 1.30€ per journey, and there are multi-journey tickets if you want them. To use the Metro you'll need to purchase a re-usable ticket, which can be returned at the end of your stay for a 1€ refund.
Taxi – The official taxis are white, and reasonably priced, but watch out for the occasional fiddle. Taxis in the centre can work out expensive because of slow travel and convoluted one way systems. Note that there is a flat rate from the airport to anywhere in Sevilla and that the price includes luggage:

21.89€ Mon-Fri 7am-9pm
24.41€ 9pm-7am, Sat-Sun-holidays
29.64€ Semana Santa & Feria.
Rental Bikes – Seville has had an official bike rental system – Sevibici for several years now, with a short term rental charge of 11 euros, after that the first half hour of each ride free, with lots of places to pick up and leave rental bikes, and a good system of cycle paths.  It's a fun, cheap way to get to attractions that are outside the centre, particularly the two expo sites. There are also some private bike rental shops, but they tend to be more expensive, and in Maria Luisa Park you can rent pedal cars for up to four people.
Car – Don't. But if you absolutely have to be aware that parking in the centre is very difficult and public parking can cost up to 20 euros per day.
Hop On – Hop Off Sightseeing Buses – This service has recently been vastly improved with the addition of two new routes that pass through the centre with a total of 13 stops throughout the city, including a "Seville by Night" option. The ticket price (15€) also includes a walking tour and is valid for two days.
Horse Carriages – Corny as heck and not cheap, about 50 euros for a 45 minute ride (for groups of up to 4-5 people) but sometimes you just have to do it.