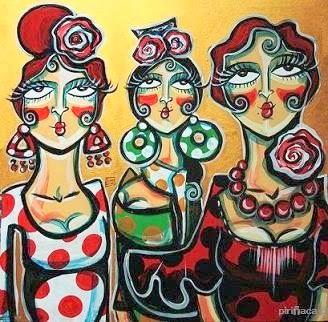 The idea of a Flamenco & Dinner Show tends to strike fear and dismay into the heart of the savvy traveller. And with good reason, as they are usually overpriced spectacles with mediocre entertainment – and even worse food – in charmless surroundings crammed with busloads of tourists. Other more respectable venues in town don't do the "dinner package" thing, but for some reason have their performances scheduled so that they cut an evening in half, especially for people not accustomed to going out for dinner at 10.30 pm.
Of course most "flamenco shows" are designed for tourists. Locals who love flamenco tend to go to "peñas", which are like private clubs, where casual visitors may not be welcome and which might feel a bit intimidating.
Our Flamenco & Tapas options combine the best of both in an intimate and unique setting that showcases talented performers and exquisite food and wine.
Flamenco & Tapas Lunch: a private lunchtime flamenco performance, catered by a well-known traditional tapas bar. You will be picked up and taken to this very special venue at the back of a flamenco guitar museum where you will enjoy a light tapas lunch with local wines while you watch the show (minimum: ten people).
Flamenco & Tapas Tour: you will be met at your hotel, or central meeting point, and taken to see the flamenco performance. Afterwards there will be a two-stop tapeo, visiting one traditional and one modern tapas bar (minimum: two people).
For more information or to book a tour contact us at: