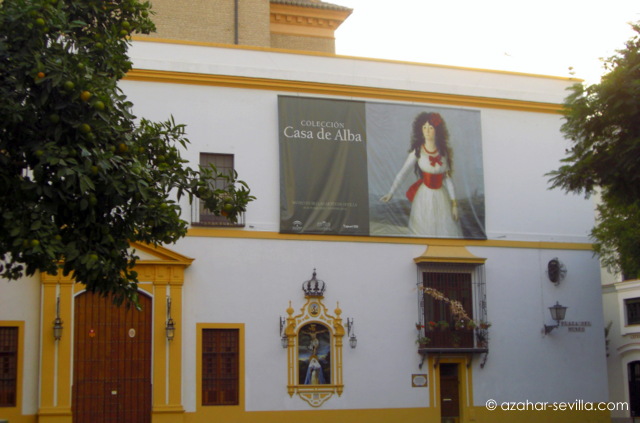 [updated August 2012]
Museo de Bellas Artes
The Museum of Fine Arts, which now hosts one of the most important collections of Spanish paintings of the 15th to the 20th centuries, was founded by royal decree in 1835, and has been housed in its present location since 1839. The building itself, formerly the la Merced convent, dates from the early 17th century, and is the work of Juan de Oviedo. The arrangement of the galleries around its three large patios allows the visitor to take a journey through time, viewing works by such masters as Velázquez, Murillo, Ribera, El Greco, Zurbarán and Valdés Leal. The Murillo collection, which can be seen in the convent church, is particularly impressive. There is also a shop and café for visitors, and behind the scenes are archives, restoration studios, and a library and research centre.
Photographs and videos not permitted.
Plaza del Museo, 9
Tel 954 786 500
Website
Opening hours: Tue-Sat 9.00-20.30
Sun and holidays 9.00-14.30
Closed Mondays
Entrance 1.50€  Free to EU citizens
Centro Andaluz de Arte Contemporanéo
The CAAC was founded in 1990, and is located in the Cartuja monastery (also called the Monastery of Santa María de las Cuevas, or the Madonna of the Caves), on the site of Expo '92. This is an important historic building in its own right, and visitors to the centre can also see, among other things, the old chapels and cloisters, the gardens and orchards, and the old kilns formerly used for pottery making. The permanent collection includes works by Luis Gordillo, Candida Hofer, Rebecca Horn, Pablo Palazuelo, Joseph Kosuth, Louise Bourgeois, Daniel Vásquez Díaz, Guillermo Pérez Villalta, and Antonio Rodríguez de Luna, and focuses in particular on the history of contemporary Andalusian art and its relationship with other national and international artistic contexts. One of the main aims of the centre is the study of contemporary international artistic creation in all its facets, by means of temporary exhibitions, seminars, workshops, concerts, meetings, recitals, film cycles and lectures. There is also a library with over 26,000 volumes.
Monasterio de la Cartuja de Santa María de Las Cuevas
Avda. Américo Vespucio, 2 / Camino de los Descubrimientos, s/n
Tel 955 037 070
Website
Opening Hours:
1 October to 31 March: Tue-Fri 10.00-20.00 / Sat 11.00-20.00 / Sun 10.00-15.00 / Closed Mondays
1 April to 30 September: Tue to Fri 10.00-21.00 / Sat 11.00-21.00 / Sun 10.00-15.00 / Closed Mondays
Entrance €1.80 to monument or temporary exhibitions; €3.00 for complete visit (free on Tuesdays)
Museo Archeológico
The Archaeological Museum is located in María Luisa Park in a neo-renaissance style building that was originally designed for the 1929 exhibition by Aníbal González. Here you can find an interesting collection of Roman, Visigothic, Moorish and Christian artefacts. The main focus is on the Romans, with many objects from the nearby Roman town of Italica, as well as a 3rd century BC mosaic from Ecija, and statues of the Spanish born emperors Hadrian and Trajan. From even earlier times is the "Carambolo Treasure" discovered near Sevilla in 1958; dated to the sixth century BC it consists of 21 pieces of gold jewellery probably made by the Tartessos tribe of ancient Iberia.
Plaza de América
Tel 954 786 474
Website
Opening times: Tue-Sat 9.00-20.30 / Sundays & Holidays 9.00-14.30
Closed Mondays
Entrance €1.50  Free to EU citizens
Museo de Artes y Costumbres Populares
Also in María Luisa Park, in the Mudejar Pavilion built for the 1929 Ibero-American exhibition, this museum is devoted to the popular arts and traditions of Andalucia. Upstairs is a display of 19th century costumes, accessories, embroidery, furniture, musical instruments and rural machinery. Downstairs there is an important collection of ceramics, and romantic images of aspects of the city's culture and tardition which make it special – bullfighting, flamenco, Semana Santa and the April fair – can also be seen.
Plaza de América
Tel 954 712 391
Website
Opening times: Tue-Sat 9.00-20.30 / Sundays & Holidays 9.00-14.30
Closed Mondays
Entrance €1.50  Free to EU citizens
Museo de Baile Flamenco
Opened in April 2006 as a result of a private initiative sponsored by Cristina Hoyos, the museum has both permanent and temporary exhibitions, and as well as an extensive collection of memorabilia, it makes much use of modern audiovisual technology to show how flamenco has developed. There are also classes in various aspects of flamenco and flamenco shows every evening.
Manuel Rojas Marcos, 3 (Casa de Palacio)
Tel 954 340 311
Website
Opening hours: 9.30-19.00
Entrance 10€, children 6€, groups 8€ per person.
Museo de Toros
The bullfighting museum can be found in the Real Maestranza bullring. Built during the 18th and 19th centuries it is one of the oldest and finest bullrings in Spain, with an impressive baroque facade and a main entrance with 16th century iron gates by Pedro Roldán. The museum's collection of memorabilia includes bulls heads, posters and costumes, including the suits worn by the famous Sevillano bullfighters Juan Belmonte and Joselito El Gallo.
Paseo de Cristobal Colon, 12 (in the La Real Maestranza bullring).
Tel 954 224 577
Website
Opening hours: Mon-Sat 9.30-19.00 Except during bullfights
Entrance 6.50€ pensioners and students 4€ Children 2.50€
Guided tours only
Casa de Pilatos
Built in the early 16th century, the Casa de Pilatos, "Pilates House", is a beautiful and early example of a "typical" Andalusian palace, in a mixture of renaissance and neomudejar styles. The main patio features the obligatory fountain, Moorish style colonnades, and busts of Roman emperors and Spanish kings. To either side of this are the two gardens – my favourite is "el chico", with its raised pool and eccentrically ornate decoration. Over the stairway to the upper floors is a domed ceiling in "mudejar honeycomb", and the upstairs rooms themselves include important works of art of the sixteenth to nineteenth centuries. If it looks familiar you may have seen it in the films Mission Impossible and, more recently, Knight and Day.
Plaza de Pilatos, 1
Tel 954 225 298
Website
Opening hours: Mon-Sun 9.00-18.00pm (19.00pm April-October)
Entrance €6 (Ground Floor only) or €8(Complete) Free Tuesday mornings
Casa de la Condesa de Lebrija
The sixteenth century town house of the Countess of Lebrija, and the eclectic, almost magpie, collection of archaeological finds she brought together around the end of the nineteenth century. Beautiful building, and some very well preserved Roman mosaics from nearby Italica.
Cuna, 8
Tel 954 227 802
Website
Opening hours: Sep-Jun Mon-Fri 10.30-19.30 / Sat 10.00-14.00 and 16.00-18.00 / Sun 10.00-14.00
Jul-Aug Mon-Fri 9.00-15.00 / Sat 10.00-14.00 / Sundays closed
Entrance €5 (ground floor only) €8 (complete)
Los Venerables
Hospital de Los Venerables, in the heart of the Barrio Santa Cruz, has an exceptionally fine church, with many works by Valdes Leal, and a typical Andalusian patio. It often hosts special art exhibits and the building itself is worth the price of admission.
Plaza de los Venerables, 8
Tel 954 562 696
Website
Opening hours: 10.00-18.00 Monday – Sunday
Free entrance Sunday 14.00-18.00
Closed January 1st, Easter Friday, December 25th
Entrance €5.50 Pensioners, students and children €2.75
Castillo de San Jorge
Once the home of the Spanish inquisition, the remains of the recently excavated St George's castle under Triana market is now a "museum of tolerance". No sensationalism, just a gentle reminder of man's inhumanity to man.
Plaza del Altozano s/n
Tel 954 332 240
Website
Opening hours: Mon-Fri 11.00-18.30 / Sat-Sun 10.00-15.00
Entrance free
Santa Clara Cultural Centre
Exhibition space and beautifully restored central patio and refectory of the former Santa Clara convent. Although planned for the future, it's not yet possible to go to the courtyard with the enigmatic Torre de Don Fadrique.
Calle Becas s/n
Tel 955 471 302
Website
Opening hours: Tue-Sat 10.00-14.00 and 17.00-21.00 / Sun and holidays 11.00-15.00 / Mondays closed
Entrance free
Torre de los Perdigones
Sole surviving building of the munitions factory that used to occupy this sight, the tower was used for making round lead shot. It now houses a camera obscura, with a balcony/mirador giving exceptional views over the city.
Resolana s/n
Tel 679 091 073
Website
Opening hours: 10.00-14.00 and 17.00-20.00 (every half-hour)
Entrance to mirador and camera obscura €4 adults €2.50 pensioners and children
mirador only €1.50
Museo de Carruajes
A collection of carriages through the ages, many in immaculate condition.
Plaza de Cuba, 10 (Convento de los Remedios)
Telephone 954 272 604
Website
Opening hours: Mon-Fri 9.00-14.00
Entrance €3.60 Pensioners, students and children €2.40
Naval Museum
A collection of maritime exhibits from Seville's seagoing past.
Paseo de Cristbal Colon, s/n (Torre del Oro)
Phone 954 222 419
Opening hours: Tuesday-Friday 10.00-14.00, Saturday-Sunday 11.00-14.00
Entrance €2 Pensioners, students and children €1