Specialty shops are great for browsing and also for finding unusual items that you won't find in the typical shopping streets.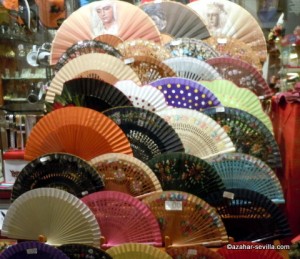 One of the most traditional keepsakes you could buy while in Sevilla is one of the gorgeous hand-made silk shawls from Juan Foronda. If not to wear, then to hang on your wall – and they fit neatly into a suitcase, weighing next to nothing. There are several Juan Foranda shops scattered around the centre of town, with their main outlet in Alvarez Quintero.
And no matter that they might seem a bit cliché, I think a brightly coloured abanica is a wonderful souvenir. And there are fans to suit all tastes and budgets, from basic 3€ models to exquisite mother-of-pearl and ostrich feather designs.