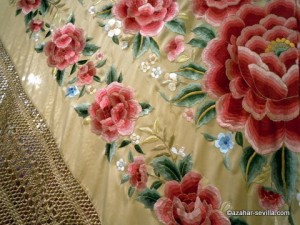 Whether you're looking for a special treat for yourself or a unique gift for someone back home, Sevilla doesn't lack for shopping options. Here I've listed a bit of everything (I think) from high-end fashion & shoes to the various markets around town, including seasonal ones.
For visitors staying a bit longer in holiday apartments the food markets will be of special interest. And I've also included some of the better craft and "souvenir" shops, because there are some very fine ones out there. For example, you could buy a beautiful hand-made silk shawl like this one…
Shopping
Food Markets
Other Markets
Also check the Sevilla Blog for regular arts & crafts markets, book fairs and Christmas markets that take place in the Plaza Nueva, Plaza San Francisco and next to the Cathedral.