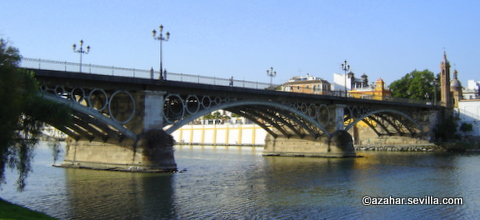 For most visitors to Seville, their first sight of Triana is likely to be of the town houses along Calle Betis and the old docks, as seen across the river. Named, it is said, for the Roman Emperor Trajan, Triana makes up the middle third of the island of la Cartuja, and was for a long time the district of the Gitanos, or gypsies. It retained a working class character until quite recent times, but is now much more mixed. Many famous flamenco performers, bullfighters, and artists were born in Triana, as was Rodrigo of Triana, one of the early explorers of the Americas, who now has a street named after him. Until the mid 19th century, when the Puente Isabel, the first bridge across the river, was built in 1847, access to Triana was by boat, and the area still has something of the feeling of being separate from and different to the rest of the city.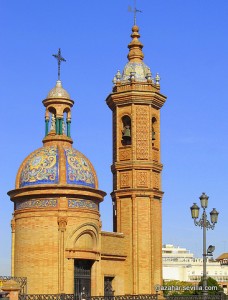 As you cross the Isabel bridge towards Triana you can see the dome and belltower of the Capilla de Carmen to the right. Immediately beyond the capilla is Triana Market. Recently refurbished, it still has the traditional stalls with their ceramic nameplates and mouthwatering displays of fruit and vegetables, fish and seafood, and meats, hams and sausages, and it is also light, clean and airy. Even if you're not buying, take some time to have a look around (and if you're like me, you'll end up buying something). Beneath the market are the ruins of San Jorge castle, once the headquarters of the inquisition, and now a "museum of tolerance". Just beyond the market is the Plaza Altozano, with its distinctive glassed in balconies on the street corners, leading to the recently pedestrianised Calle San Jacinto, the main street of Triana.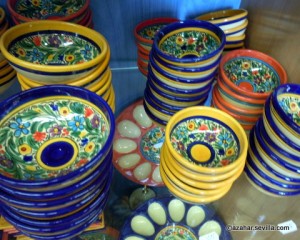 Turn to the right into Calle San Jorge, and you will find yourself in the area where most of Seville's ceramics are/were made. Although many of the ceramics shops in c/Antillano Campos seem to be aiming at the tourist market these days, it's still fun to browse around and see if you can pick up a bargain. Strolling around the this part of Triana, I was particularly struck by the many traditional communal courtyards that could be glimpsed from the street (looking through open doorways being one of my favourite pastimes). One or two sad sights, too, like the vacant lot which used to be the Alfarería cinema.