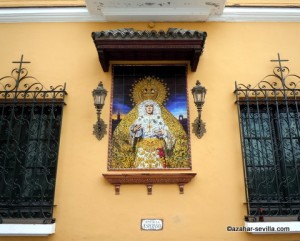 La Macarena is the northeastern part of the city, between the Alameda and the city walls on the Ronda. It is said to have once been one of the poorest slums in Spain, and is still an essentially working class area of small houses and apartments.
It's most iconic emblem is the effigy of La Virgen de la Esperanza de la Macarena, which dates from the late 17th century. If you're not here during Semana Santa to see her processing to the cathedral, you can find her at the Basilica in Calle Becquer, which, despite appearances, is a relatively modern building, built in 1949. On the far side of the plaza across the main road, is the palatial Andalucian parliament building. Originally the Hospital de Cinco Llagas (Five wounds), it was built in the 16th century and functioned as a hospital until 1972. Also next to the basilica is the Puerta Macarena, one of only three surviving gates of the old city. Follow the old walls – this is the longest remaining section, and their stark simplicity gives some idea of the effect they must have had when they circled the city – and you soon come to the second surviving gate, the Puerta de Cordoba.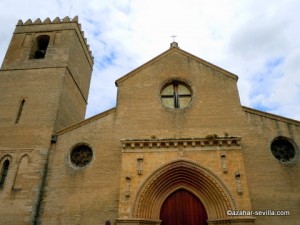 Like everywhere else in Seville, la Macarena has plenty of religious architecture and art. The churches of San Marcos and San Juan de la Palma, both in the gothic-mudejar style, were built in the 15th century on the sites of former mosques, although substantially rebuilt since, and the tower of San Marcos clearly resembles the more famous Giralda. Both were also burned and looted during the civil unrest at the beginning of the civil war.
The early 18th century church of San Luis is one of my favourites, though it has fallen into disrepair over the years.