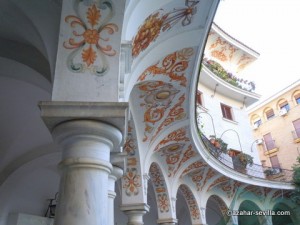 The barrio of El Arenal lies between Santa Cruz and the River Guadalquivir, and although less touristy than some other parts of the city, there is still plenty to see and do. Seville has long been a port city, and during the 16th and 17th centuries, following the discovery of America, it was one of the busiest ports in Europe.  The riverfront itself changed dramatically at the beginning of the 1990s in preparation for the 1992 expo. The railway lines servicing the port were dug up and a promenade built all along this bank of the river, where you can take a pleasant stroll.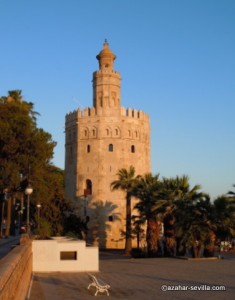 Close to the Puente San Telmo is one of Seville's most iconic buildings, the Torre del Oro (Gold Tower). It was built as a watchtower by the Muslim Almohades in the first half of the 13th century, shortly before the reconquest of 1248. Since then it has been a prison, a chapel and a gold depository, and come close to demolition on at least two occasions. Today it houses Seville's Museum of Naval History.
Close by is another reminder of that history- the Real Atarazanas, or Royal Shipyards, also dating to the 13th century. Next door is the Hospital de la Caridad, and on the other side are the Postigo de Aceite (Oil Gate), with its little chapel/shrine, and the Mercado de Artesanes, where you can buy locally made handicrafts for gifts or souvenirs.
Back on the main road by the river are the Maestranza Theatre, and the Real Maestranza, Seville's 18th century bullring, one of the oldest and finest in Spain. If you really want to sample an important aspect of the local culture, and are here during one of the corridas get a ticket to one of the fights. In any case visit the museum, and take a look at the arena. If you're staying in the area, particularly in an apartment, you will also want to visit the Arenal market for fruit and vegetables, fresh fish and seafood, meats, or even flowers.