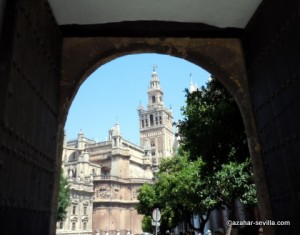 Although there is much else to be seen in Seville, it is inevitably to the barrio Santa Cruz that a visitor comes first. Bounded on one side by the historic centre of the city and World Heritage Site comprising the Alcázar Palace and gardens, the Archivos de India, and the Cathedral, around the Plazas de los Reyes and del Triunfo, it forms the southern part of the old city.
In the period after the reconquest of the city by the Moors by Fernando III in 1248, Seville became the home of the second largest Jewish community in Spain, with the barrio Santa Cruz, and neighbouring San Bartolomé making up la Judería, the Jewish quarter. After the pogrom of 1391, the Jews were finally expelled by the edict of Ferdinand and Isabel in 1493. After this, Santa Cruz fell into a long period of decline and became little more than ruins until the major rebuilding and renewal project of the early 19th century created the barrio Santa Cruz we see today.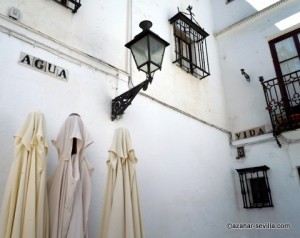 And there is certainly plenty to see. This picturesque labyrinth of small squares and narrow streets has surprises at every turn, glimpses of cool green courtyards, fountains and statuary, tiled benches, and countless tapas bars and restaurants to choose from.
Even for those who live here and have become used to it, the attention to colour and detail in the buildings is a constant source of pleasure. Don't forget to look up as you stroll down the streets and check out the beautiful tiling that covers the undersides of many of the balconies.
Personal favourite places include the Patio de las Banderas, with its fountain and orange trees, the Plaza de los Refinadores, where you can find a statue of the legendary lover Don Juan de Tenorio, and the "hidden gem" of Plaza Doña Elvira, with its charming tiled benches and fountains.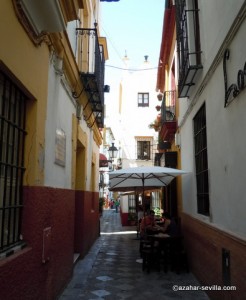 You should also visit the nearby Hospital de los Venerables Sacerdotes. Built as a home for retired priests in the late 17th century, it is regarded as one of the best examples of a baroque style townhouse in Seville, with a superb cloistered patio, exhibition rooms, and a church decorated with murals by Valdes Leal.
Just outside the barrio proper, along the back wall of the Alcazar, are the Jardines de Murillo, an ever popular place to walk, or sit and relax; look out for the magnificent magnolia trees, and the monument to Columbus.
Oh, and throw away your map – getting lost in the labyrinth is half the fun.