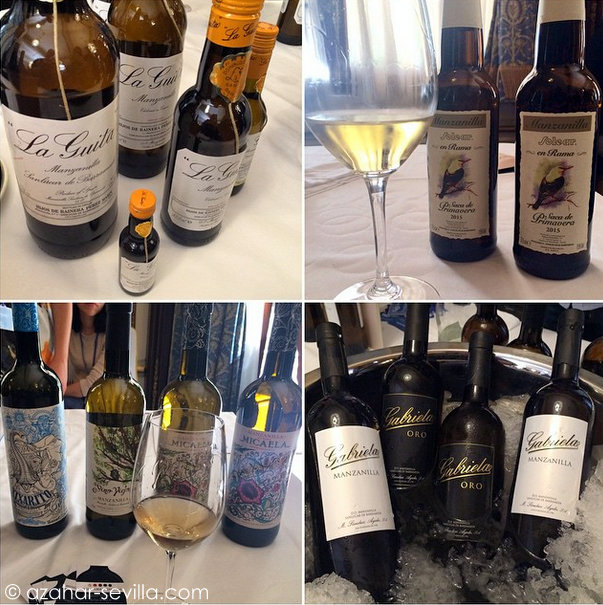 The Sherry Regulatory Council was established in 1935 and is the oldest Denominación de Origen in Spain, though of course the wines have been produced for hundreds of years. At first manzanilla, the unique sherry that is only produced in Sanlúcar de Barrameda, was included in this denominación, but in 1964 it received its own D.O., recognising the special characteristics that set it apart from other sherry wines. This past Monday I went to a fabulous event celebrating the 50th anniversary of Manzanilla, held at the Alfonso XIII hotel in Sevilla. The fourteen bodegas represented included all the main players and well-known names from Sanlúcar de Barrameda: Álvaro Domecq, Barbadillo, Barón, Covisan, Elías González Guzmán, Delgado Zuleta, Francisco Yuste, Herederos de Argüeso, Hidalgo – La Gitana, Juan Piñero, La Guita, Lustau, Miguel Sánchez Ayala, and Williams & Humbert.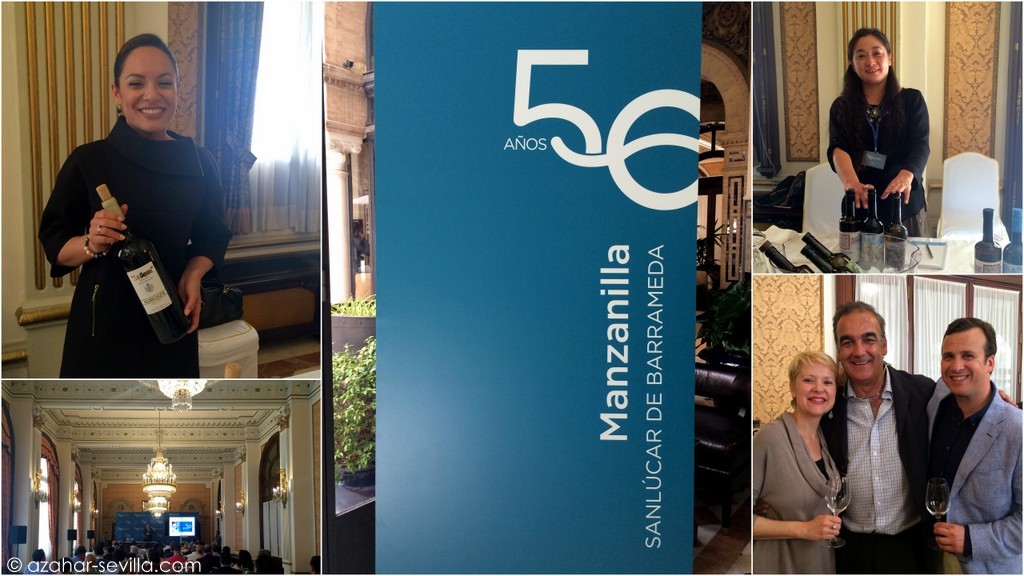 Nuria (Delgado Zuleta, Momoko (Bodegas Baron),
Antonio Barbadillo (Sacristia AB), Valeska & Fernando (Paladar y Tomar)
I missed the morning session, arriving after lunch, and immediately got into some serious sherry tasting. Visitors could wander around and meet the exhibitors, and the event included a formal tasting for invited guests. Along with the familiar hallmark brands we were able to sample a number of "en rama" and other special manzanillas "sacas". It was great to see friends, and fellow sherry lovers, and chat again to some of the people I met when I visited a few bodegas last summer. Looking forward to another trip to Sanúcar soon.