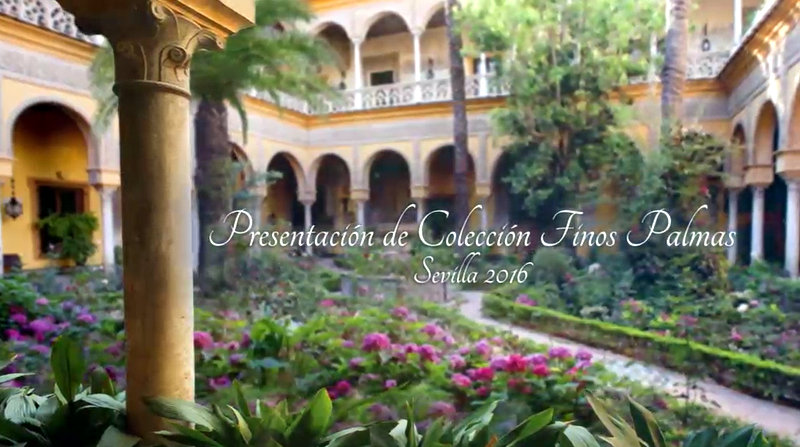 The Cuatro Palmas (four palms) is an annual selection of a small number of the very best casks of Tio Pepe Fino sherries from Bodega González Byass in Jerez, which are publicly presented to the sherry and hospitality trades and selected press at an invitation only event in November.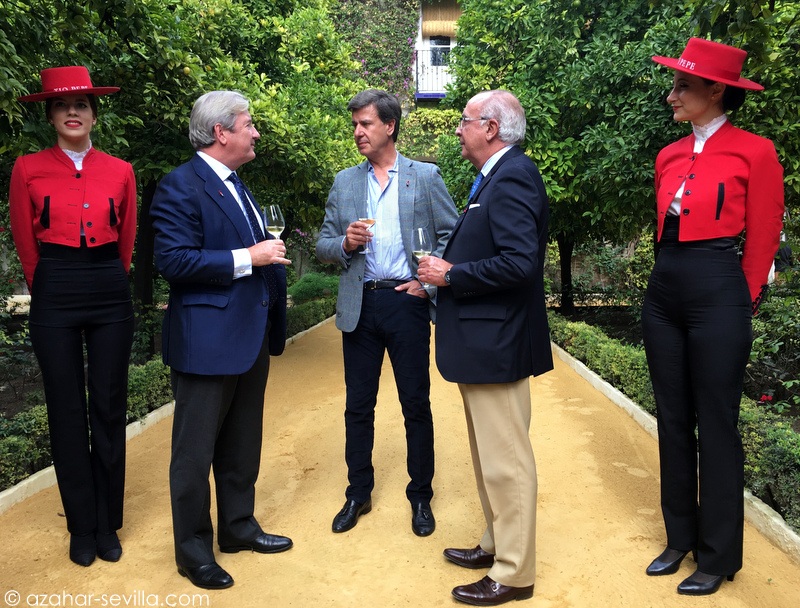 Pedro Rebuelta, Cayetano Martínez de Irujo, Antonio Flores
I was fortunate enough to be invited to the presentation, which was held at the spectacular Palacio de las Dueñas, the seat of the Duke Of Alba, in Sevilla. Only opened to the public in May, this 15th century Gothic-Renaissance-Mudejar style palace, with is long halls and garden courtyards, was a perfect venue for the presentations and tastings.
This year's selections were made in September by Antonio Flores, Gonzalez Byass' master winemaker, and renowned sommelier Gérard Bassett, and bottled, as always, "en rama", without filtration or clarification. Not an easy task, but eventually wines were selected for each of the four palmas.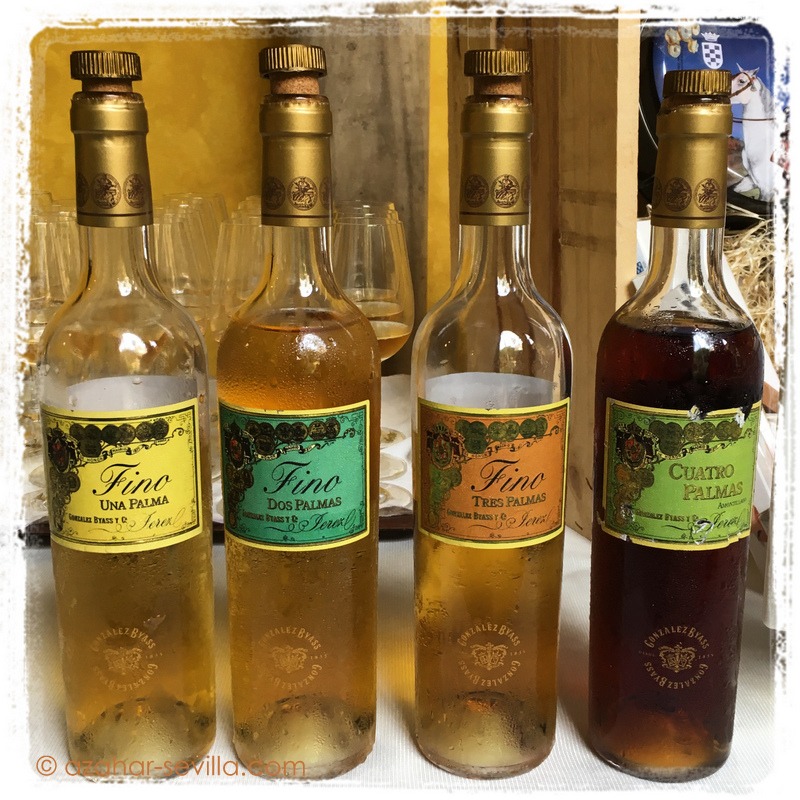 One Palm is a 6 year old Fino selected from three casks, out of a total of 142, that exemplifies the evolution of the style.
Two palms is an 8 year old Fino selected from just two casks out of 150, reflecting the elegance of a well aged wine.
Three Palms is a 10 year old Fino selected from a single cask at the limit of the biological ageing process.
Four palms is a Fino that has passed to being an amontillado, and was selected from one of just six casks that have been ageing in González Byass for 51 years. It reflects the ability of Tío Pepe to evolve over time.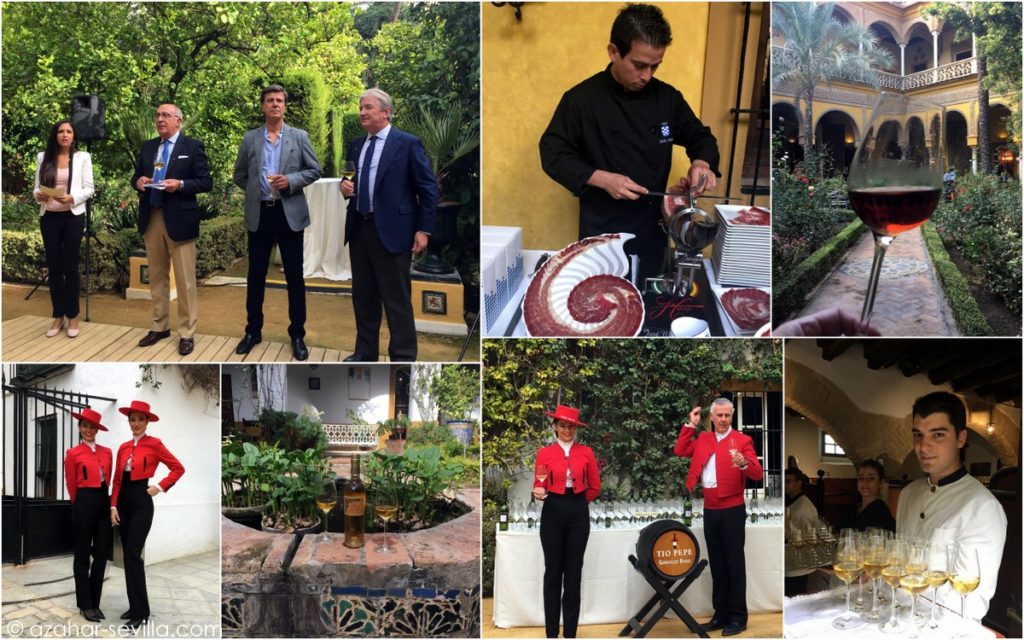 The presentation took the form of a palace tour, stopping at a different garden courtyard to sample each wine, while "winemaker poet" Antonio Flores not only regaled us with the unique characteristics of each Palma, but also (aptly) read from the works of Antonio Machado, born in the palace in 1897. This was followed by a sumptuous buffet lunch, with all the Palmas flowing freely. Not surprisingly all the 2016  Finos Palmas stock has been sold already, but you can still find it in select wine shops in Sevilla, such as the Corte Inglés Gourmet Experience.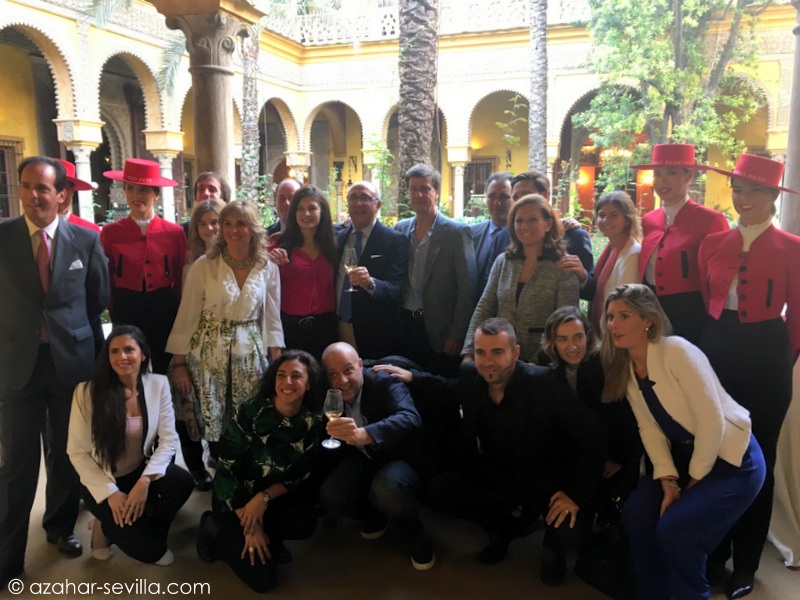 foto de familia