Updated February 2013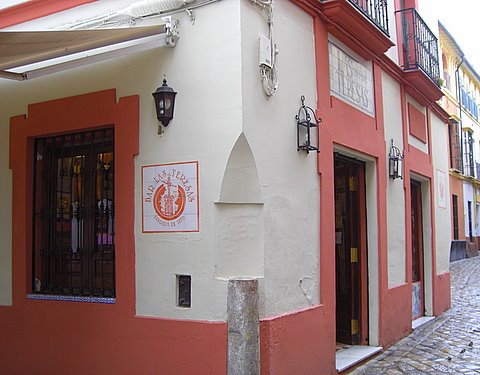 I've been coming to Las Teresas for almost twenty years and I love taking people here when they first come to Sevilla, to give them an idea of what a very typical and traditional tapas bar feels – and tastes – like. Aside from the obvious (order some of that jamón that's hanging from the ceiling!) there is also fabulous fried hake, grilled tuna collar (morillo), spinach with garbanzos, solomillo wrapped in bacon … all in a cosy and comfortable 'ambientation' with Semana Santa, Feria and Taurino memorabilia absolutely everywhere. You can have tapas inside at the bar and tables or enjoy raciones out on the terrace, which runs alongside the building in a narrow pedestrianised street.
Las Teresas has become popular with visitors due to "trip advisor" and guide book mentions, but don't let that put you off. Just as many locals come here on a regular basis too for the great food, excellent wine list (including cava by the glass) and friendly service. I always feel so at home here.
c/ Santa Teresa 2
Tel.954 213 069
Open 12.00 – midnight
Kitchen open 13.00 – 16.00 / 20.00 – 00.00
€ € €