Updated June 2013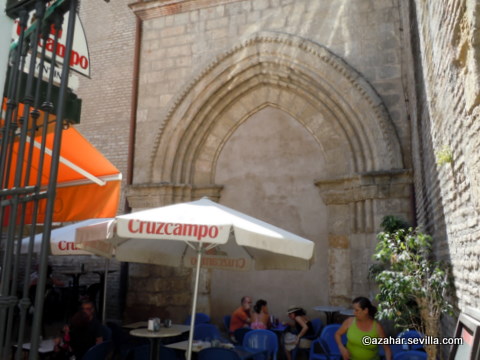 La Cantina is my favourite market bar in town, serving up fabulous fresh fish and seafood tapas, including unusual delicacies such as fried ortigüillas (sea anemones) and tuna collar preserved in Iberian pork fat (tuna bacon!). Located inside the Feria street market, the bar area is tiny but there is an ample terrace that splendidly incorporates one of the outer walls of the 13th century Omnium Sanctorium church. Choose your tapas from the fresh fish display at the counter, which will then be quickly grilled or fried for you. It's all self-service – your name will be called when your order is ready and your bar tab will be written on the white-tiled wall. Non-fish eaters are a bit out of luck, though they do have excellent chicharrones de Cádiz, marinated potato salad and roasted red peppers.
On Mondays, when the market fish stalls are closed, you can still enjoy croquettes, cod and prawn tortillitas, langoustines wrapped in potato threads, prawn wontons, breaded mussels, hake in adobo and bacon-wrapped prawns.
Open for breakfast and lunch, La Cantina is always busy and buzzy and you can tell this is a favourite place for locals. Excellent value for money and terrific bar service.
Bread Charge: 0€
Mercado de la Feria
Tel. 656 958 620
Open 7.00 – 16.30
Monday – Saturday
€ €