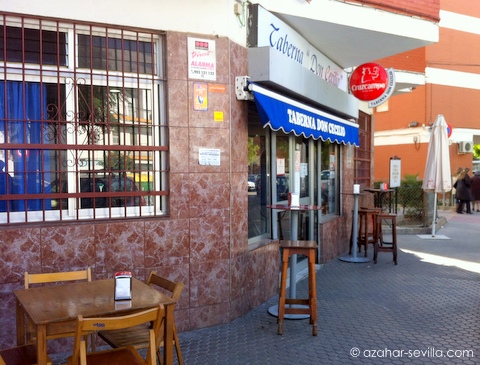 I've been hearing about this place from various sources lately and at first thought it was an old neighbourhood favourite that I'd somehow missed. And neither arriving at the bar last weekend, nor indeed eating our lunch, did anything to dispel this notion. It looked and felt like a typical tasca from about 20 years ago, with cheap prices (all tapas are 2.50€) as well as what used to be the usual dire selection of white wines in Sevilla (decent reds though), less than sparkling clean glasses and cutlery, but warm and attentive service. In other words, pretty much how most tapas bars were back in the day. So it surprised the heck out of me when co-owner Juanma told me later that he and his partners had taken over Taberna Don Cecilio just four months ago!
Obviously keen on preserving the original tasca charm, it does seem like not much has been changed other than a few more adventurous tapas on the chalkboard menu, such as carrillada in chocolate, goat cheese salad, and solomillo stuffed with foie and jamón Ibérico. We decided to play it safe (secretly happy the carrillada in chocolate wasn't available or we would have had to try it) and ordered mostly traditional tapas. What really stood out were the simple grilled meats (solomillo and secreto) and the exceptional mushrooms with chorizo "al ajillo". The rest, well, were worth 2.50€.
Overall we had a great time. It's obviously still a favourite with locals and has a genuine laid back charm. But I think they don't need to take the whole tasca thing so much to heart that they don't polish glasses and only offer Barbadillo "Castigo" de San Diego or Marqués de Eliche (two of the most undrinkable white wines in existence). But after a pleasantly stuffifying lunch for two for just 23€… not complaining at all.
Bread Charge: 0€
Manuel Pareja Obregon
Triana
tel. 615 084 638
Open: 7.30 – midnight
All-day kitchen (tapas from 11.00)
Closed: Mondays
€ € €