Updated February 2013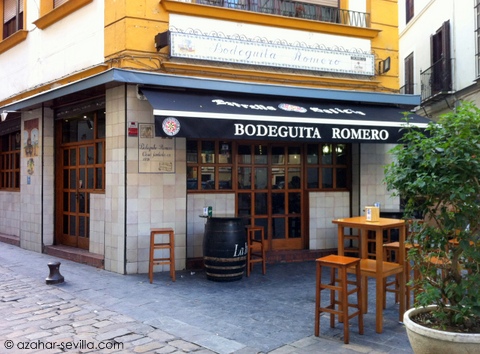 Famous for having the very best pringá montaditos in Sevilla! This is a small toasted bun filled with a mixture of very tender slow-cooked pork, black pudding and chorizo. It's usually served as a sort of paste in other tapa bars, but here it's very meaty and chunky, served hot and totally to die for. Other favourites include the melt-in-your-mouth carrilladas (stewed pig cheeks) and the house marinated potatoes, prepared daily by Pedro Romero himself. And for a bar that is so well-known for its meat dishes, it also has a great selection of vegetarian options. The staff here are friendly and welcoming and even when the place is heaving (which is often) the service is fast and efficient.
But what makes the original Bodeguita Romero (not to be confused with Bodguita A Romero) special is how you feel so at home there. Going strong for over 70 years now, and into its third generation, Pedro and Angela still run the show and you can feel the heart they put into it. Great homemade food, lovingly prepared, professionally presented, all in a cosy family-style atmosphere where you get superb value for money. It's been on my top-five list for years.
Bread Charge: 0€
c/ Harinas 10
tel. 954 229 556
Open: 12:00 – 17:00 / 20:00 – 00:00
Closed: Sunday evening & Monday
Bodeguita Romero Website
€ €
* Vegetarian Friendly