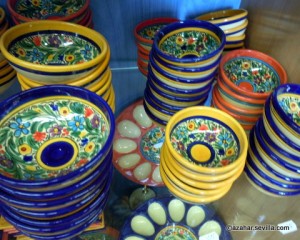 Seville, and specifically Triana, is renowned for its brightly coloured ceramics, which most famously adorn the recently refurbished Plaza de España. The area just behind the Triana Market, beginning at San Jorge and continuing down calles Antillano and Alfarería, is choc-a-bloc with fabulous ceramics shops that offer a wide range of  hand-painted crockery and tiles, and they will also take custom orders.
For antique ceramics check out Popularte on Pasaje de Vila in the Barrio Santa Cruz. Laura's unique collection of beautiful old pottery and tiles takes you back in time and really gives you a feel for what life was like in the villages that surround Sevilla. If carting home a large clay urn isn't a practical option for you, don't worry – Laura will safely ship your purchase to anywhere in the world.
Norberto León's exquisitely executed limited-edition serigraphs are my idea of a first-rate souvenir of Sevilla. I first met Norberto (aka Norler)on a magical evening here almost five years ago, and since then he has gone from his tiny workshop in the centre of town to an impressive studio in Triana (Alfarería 28).
The Postigo is a permanent two-storey crafts market located just behind the main post office, with local artesans selling their wares, including ceramics and jewellery.