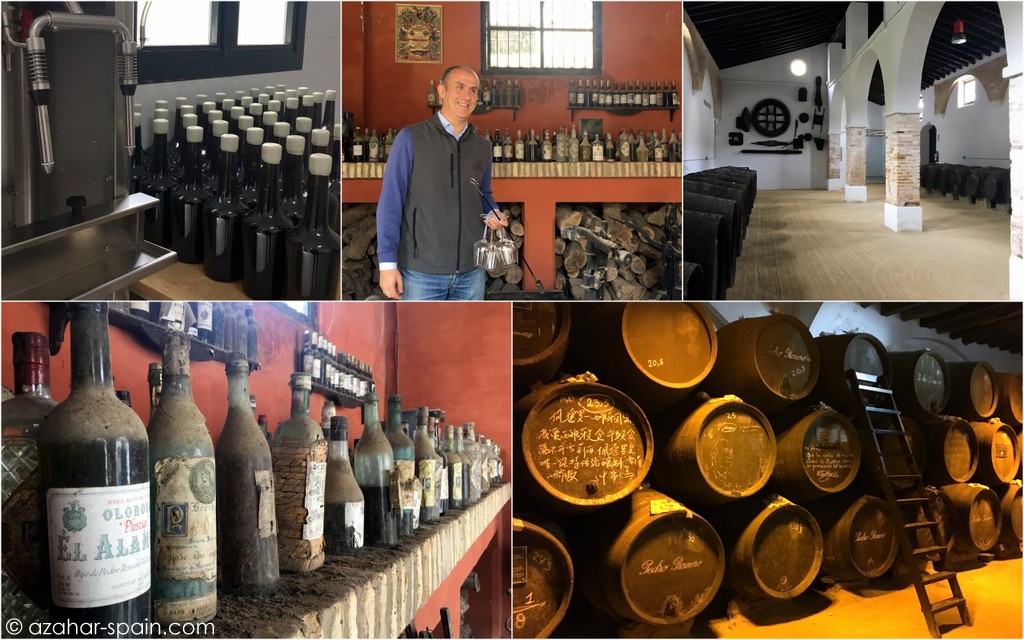 Fran Asencio was born in Sevilla, made his money in civil engineering, and learned viticulture and wine making in Asturias as co-proprietor of Dominio del Uragallo. About three years ago he was looking to make another winery investment in the south of Spain, and became aware of the recent financial collapse of the venerable Bodegas Pedro Romero in Sanlúcar de Barrameda, and the untimely death of its owner. After complex negotiations with the company's creditors, Fran and his brother Fernando became the proud owners of parts of the former Romero bodegas, namely Bodegas Fernando Mendez and Gaspar Florido.
Their twin projects were the preservation of Romero's old rare sherries, including four "botas unicas" to show the world that these precious vintages still existed, and the creation of their own manzanilla pasada, Vela Flor, which had its first bottling in 2016. This is a spectacular manzanilla and probably the only true en rama on the market, as absolutely no filtering or stabilizing methods are used.
We visited Fran at the former Bodega Mendez in Calle Bolsa, and he showed us the ongoing work with the wines and the restoration of the bodega. Like many bodegas, Alonso's Mendez bodega has a definite rustic appearance, especially the large open courtyard, and there is a melancholic beauty inside the naves that are still abandoned. The visit started with a visit to the old distillery, intended by the Romeros to provide the grape spirit for fortifying the sherries, but never actually used, but seeing the old alembics, and the collection of old dusty bottles stored here was fascinating. Next was the restored nave which functions as Fran's laboratory, where mostos from different pagos around the sherry triangle are tested under various conditions.
Finally was the sacristía. Interestingly, the sacristía here is called the mezquita, but the Romeros, devout catholics, had a large religious plaque placed on the wall in case anyone got the wrong idea. Here are the best and most valuable of the old Romero vintages, including Gaspar Florido and Ansar Real, and this is where we got to taste a 100 year old amontillado (swoon!). Throughout Fran regaled us with stories of how he came to find the bodega, and his devotion to sherry, to Sanlúcar, and to traditional, non-mechanical methods of handling the wine.
This was a fascinating glimpse into an almost legendary past being brought back to life, and one of the most interesting bodega visits I have experienced. Fran's passion is contagious – at one point I actually had tears in my eyes – and I was so grateful that he'd actually postponed his departure time for a business trip to Madrid in order to receive us at the bodega.
In Sevilla you can find Vela Flor at Lama La Uva in Plaza Regina, or you can enjoy a glass at Bodeguita Romero.
Bodegas Alonso
Bolsa 114
Sanlúcar de Barrameda
Tel 956 360 124