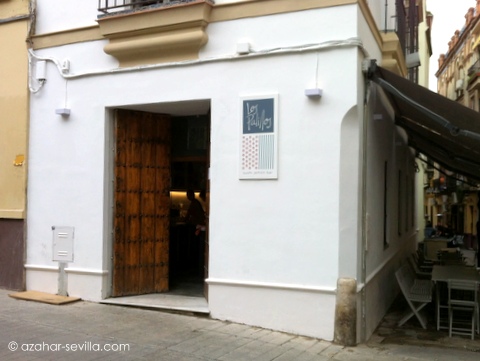 Los Palillos "sushi jamón bar" has been open just two weeks. I've been watching its progress as I pass by there on the way to my gym (I'd like to say every day…) three times a week. Well, today was the day to finally satisfy my curiosity. Sushi and jamón! Yum, right? We arrived right at opening time and were told they weren't ready yet, but there was no offer of a complementary drink while we waited. There also wasn't any jamón on offer unless we wanted to order a whole plate of it for 12 euros. So we waited.
When we finally got to order it was a very hit-and-miss experience. The fish niguiri were very nice (although we had to ask for a bit of soy and wasabi) and the pringá wontons were a delight. After that it kind of fell apart. Our waiter didn't advise us of last-minute changes to the menu and didn't seem to know what all the ingredients were. Later management "apologised" by explaining that the waiter was new. Oh boy, don't ever do that. The waiter in question was very charming and was as helpful as he could be, but obviously management hadn't spent enough time training their staff properly.
I think Los Palillos needs to sort itself out a bit. It feels like what it is – an attractive business venture being overseen by five partners. What it needs to feel like is a place that someone in charge really cares about.
Huelva 22
(Plaza de la Pescaderia)
tel. 665 648 186
Open 13.00 – 02.00
Kitchen open: 13.00 – 16.30 / 20.30 – midnight
Closed: Mondays
Los Palillos Website
€ € € €