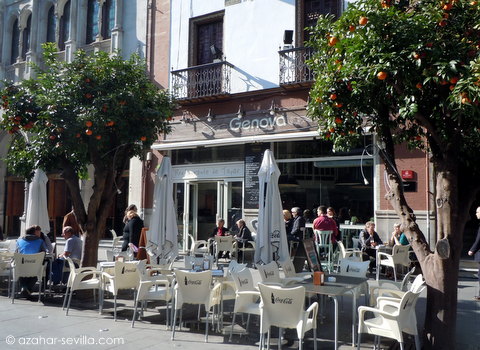 Location, location and location… Génova Cafe Bar has all three. What it doesn't have yet is a clear identity (café? tapas bar? burger & sandwich joint?), which isn't necessarily a bad thing. The four partners are still feeling their way with the menu and they mostly get it right. In the spirit of full disclosure I should mention that I was invited (along with my friend Peter, aka Seville Concierge) to sample a small "tasting menu". Trust me, this almost never happens, and while it's always nice to be treated to a meal, it was clear that it wasn't in exchange for a "good review". In fact, Génova didn't want that either. They just really wanted me to come by and try the place. So that's why some of the photos show the tapas divided in two. Another day we stopped by to try a full-size burger and salad – normal photos for those.
The bar inside is on two levels, with a half-floor mezzanine. There's plenty of space and light, and I like the backlit "shuttered window" effect on one wall, as well as the old photos of the "antigua calle" (Génova was the medieval name for Avda de la Constitución). The terrace with little tables under the parasols and orange trees that line the avenue has a cosmopolitan charm and I'm pleased to say that Génova has totally got it right with their well-trained staff.
The menu offers salads, chacinas (cured meats and cheeses), a small but eclectic mix of specialities, hamburgers (regular and mini) and sandwiches, some traditional meat and fish dishes (not available in tapas size) as well as sushi and paella. There are also daily tapas specials and soon they will be adding a weekday lunchtime fixed menu. The food was generally quite good, and we particularly enjoyed the grilled duck breast, bacalao confitado… also the bacon cheeseburger.
It's still early days as Génova has been open less than two months, but there's real potential for it to become the one place on the avenida that doesn't scream "tourist trap" and I've got my fingers crossed that their evolution will continue in this direction.
Bread Charge: 0.80€ per basket
Avenida de la Constitución 10
tel. 954 22 74 36
Open: 9.30 – midnight
(kitchen closed 16.00 – 19.30)
€ € €
Vegetarian Friendly
Génova Cafe Bar Webstite