Updated: March 2014
Not so much of a hidden gem anymore, Eslava is just outside the usual "rutas de tapas", and is deservedly one of the most popular tapas bars in Sevilla. It is charming and unpretentious and serves up some of the best food in town at some of the best prices in town. Favourites include super-tender pork ribs in honey sauce, boletus soufflé topped with free-range egg, and the grilled solomillo in creamy dill sauce. Or just go and order anything at all – you won't be disappointed. Try to get there early because it fills up fast, but even when it's buzzy and bustling the service is always top-notch. I prefer sitting at the bar but there is also a cosy dining area at the back and lots of tall tables with stools on the sidewalk terrace.
Weekdays there is a lunchtime menu del día (see photo collage below) – great value at 10€.
The restaurant next door is small and intimate, with an elegant menu and excellent wine list. Reservations a must.
Bread Charge: 0€
c/Eslava 5
tel. 954 906 568
13.00 – midnight
(kitchen closed 16.30 – 19.30)
closed Sunday evening & Monday
€ € (bar)
€ € € € (restaurant)
Vegetarian Friendly






Food 9 | Wine 9 | Service 9 | Ambiance 9
The Bar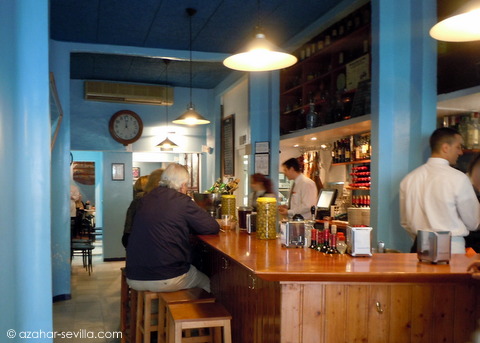 the bar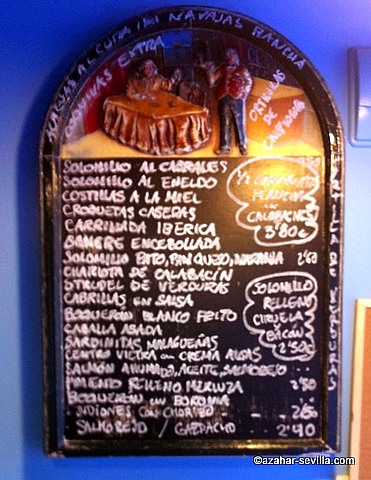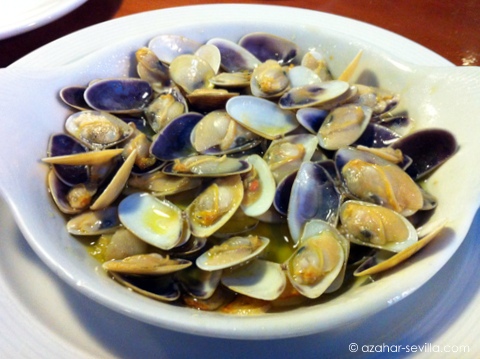 garlicky coquinas from Punto Umbria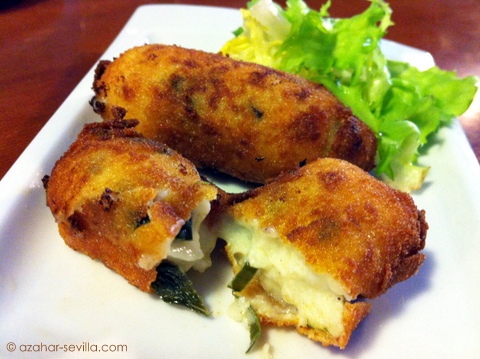 torta del casar croquettes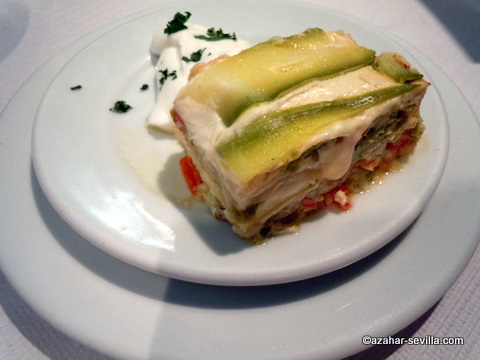 courgettes 'charlotte'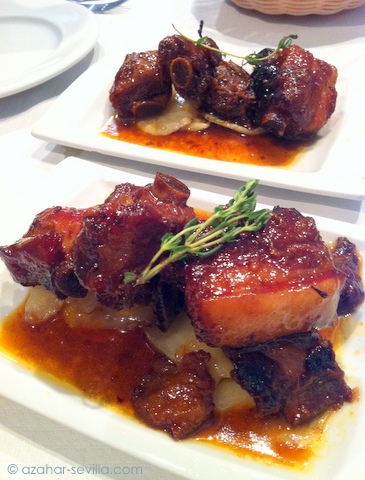 Iberian pork ribs in honey sauce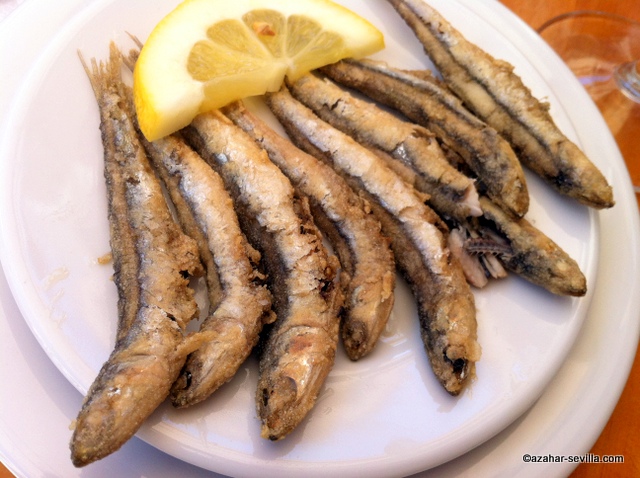 fried boquerones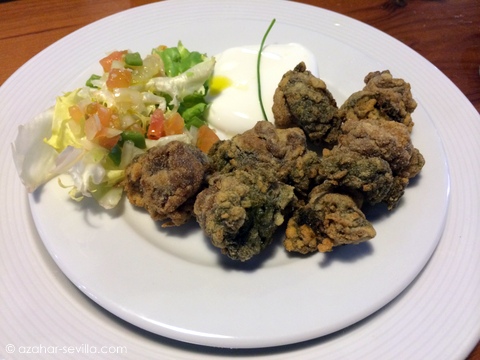 fried ortiguillas (sea anemone)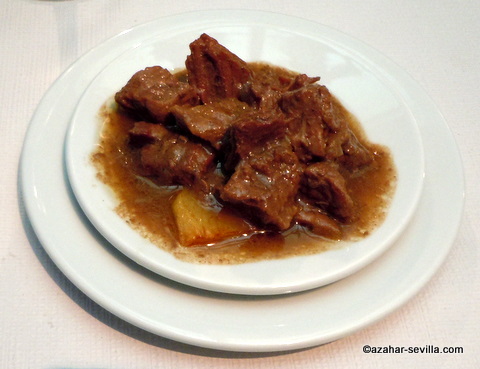 tender beef stewed in red wine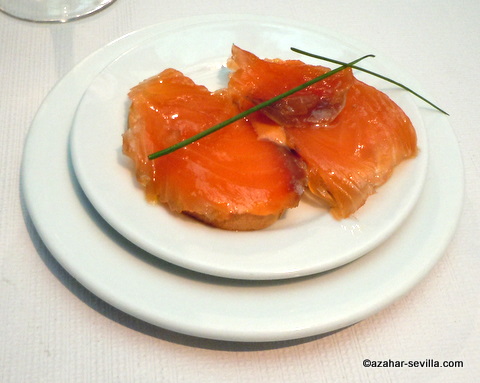 smoked salmon on toast with salmorejo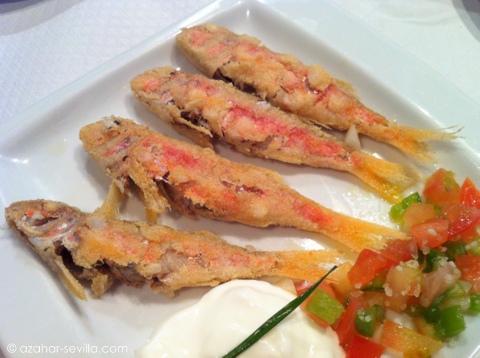 fried salmonetes (red mullet)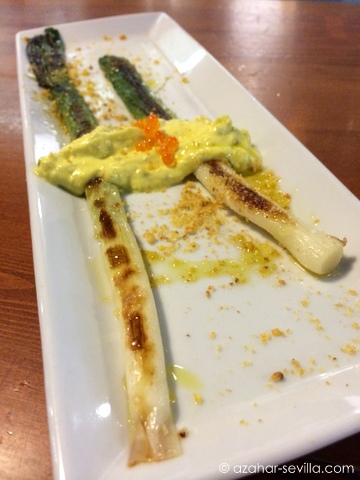 grilled leeks with tartare sauce and salmon roe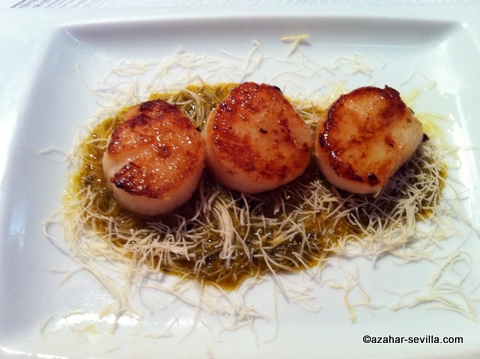 grilled scallopes with fried noodles and seaweed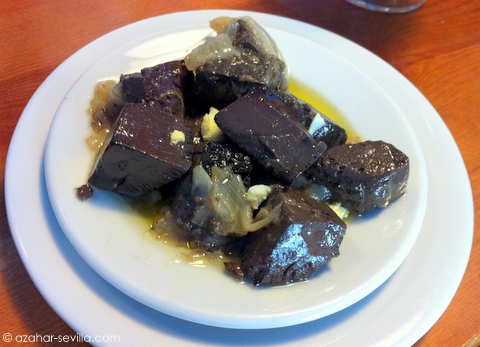 sangre encebollada (fried blood with onions)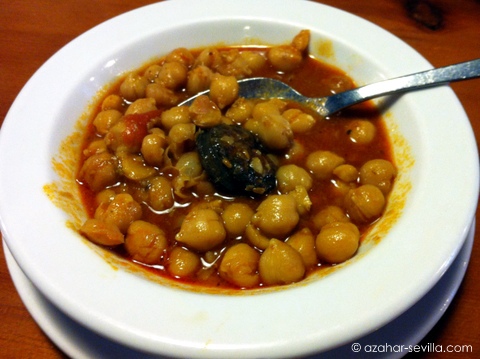 cocido with morcilla and chorizo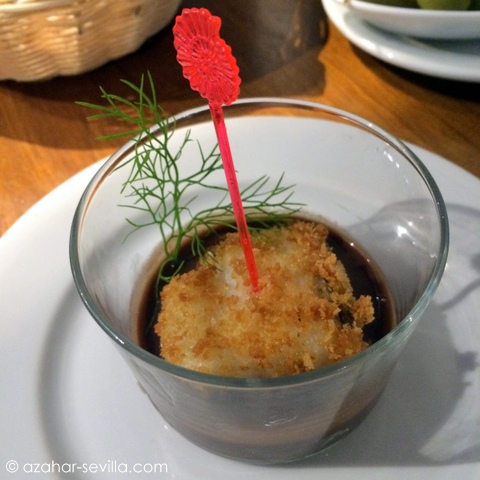 bacalao piruleta with spicy chocolate sauce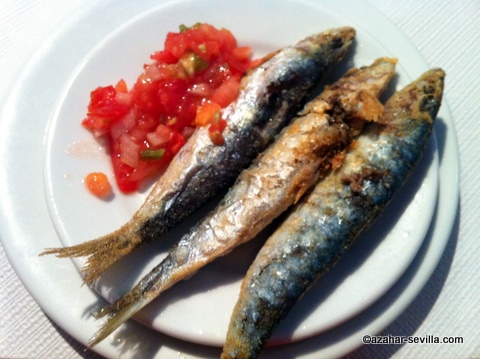 grilled sardines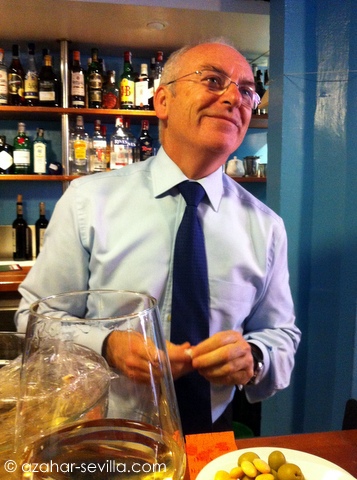 chatting with Sixto, the owner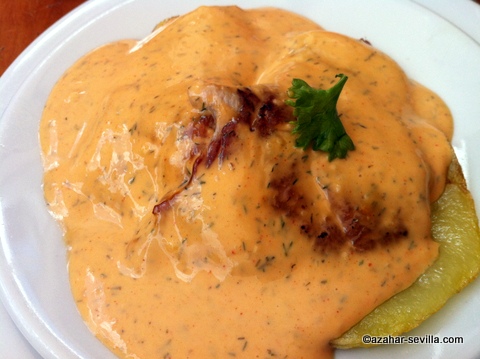 solomillo (pork tenderloin) in dill sauce
carrillada (stewed pig's cheeks)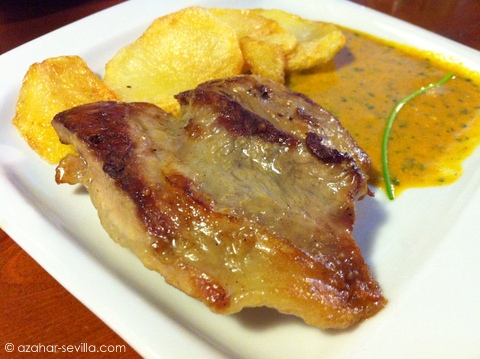 grilled secreto Ibérico with cilantro sauce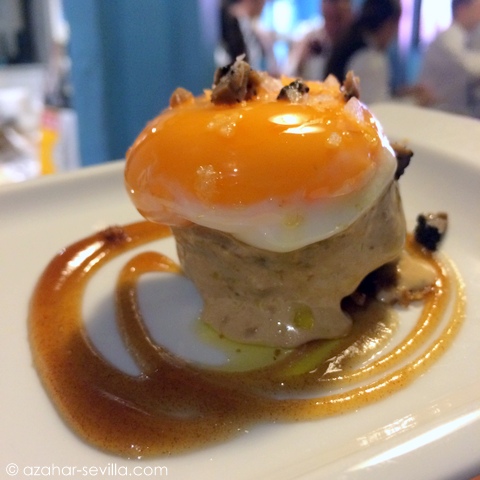 free range egg on top of boletus soufflé with caramalised wine sauce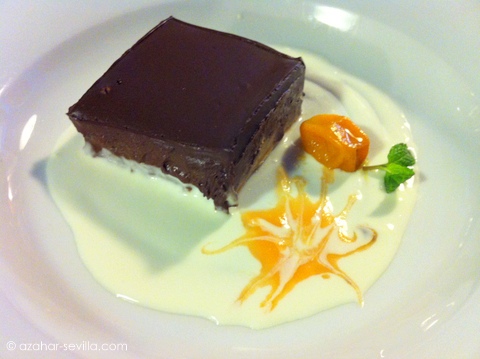 dark chocolate orange mousse cake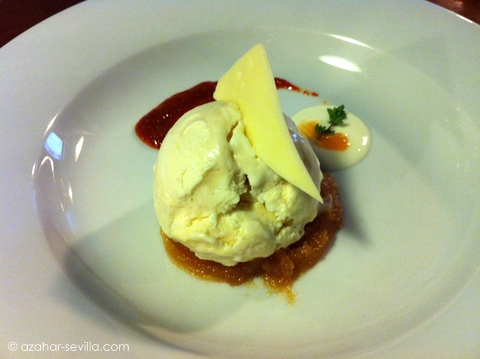 manchego cheese ice cream with tomato jam and membrillo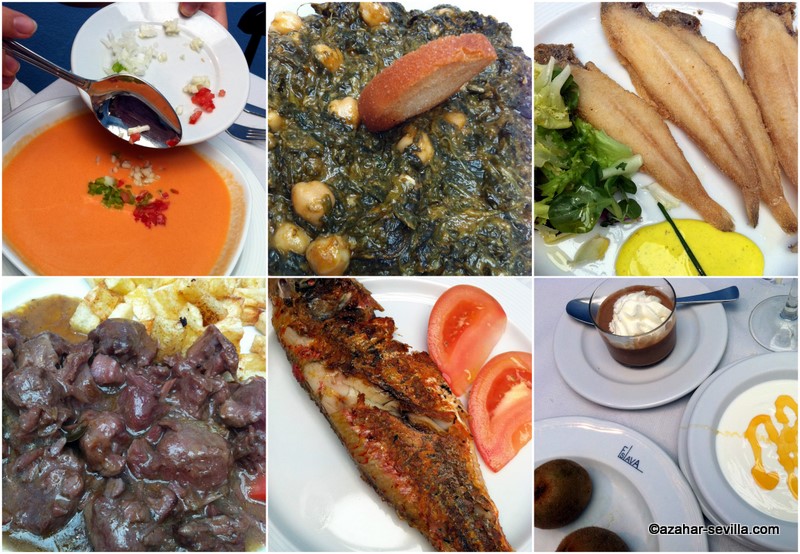 menu del día: starter, main course, dessert & beverage for 10€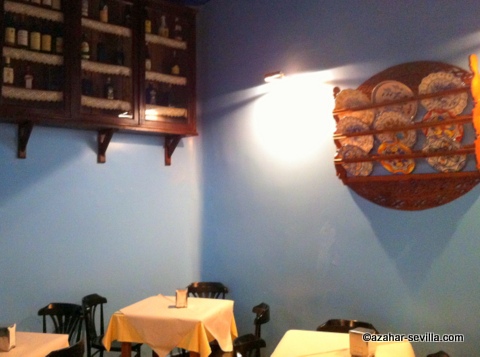 dining area
The Restaurant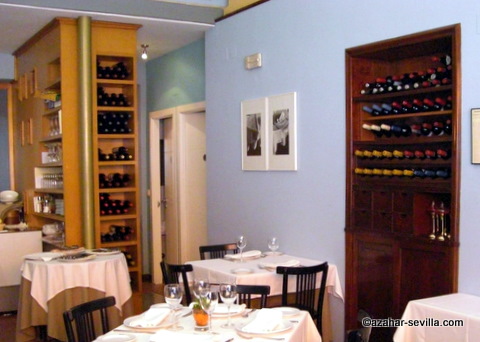 the restaurant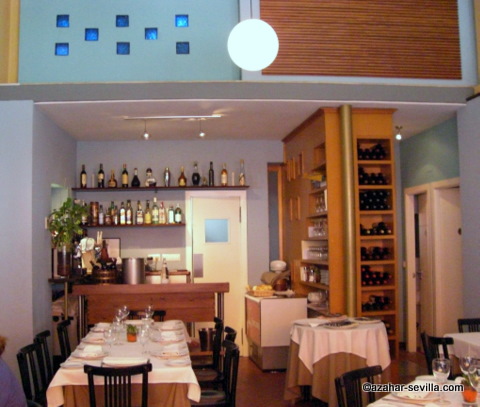 restaurant dining area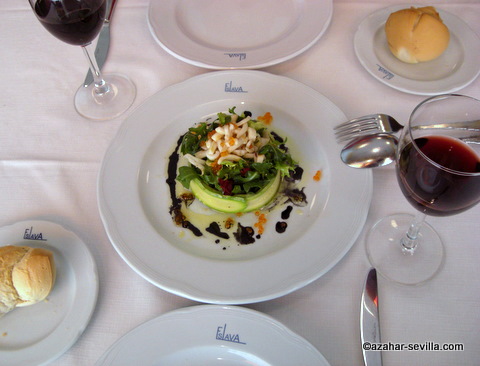 arrugula & radicchio salad with courgette, calamares & caviar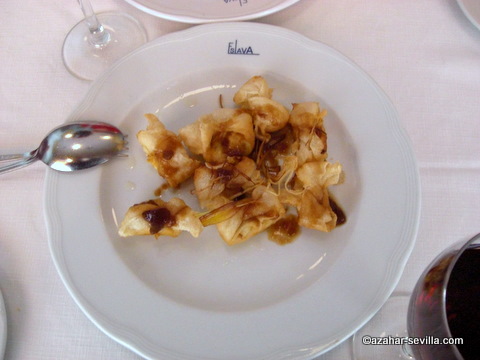 little fried blue cheese 'packets'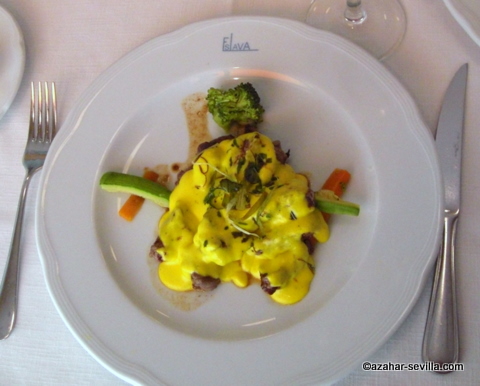 beef tenderloin with cheese & sherry sauce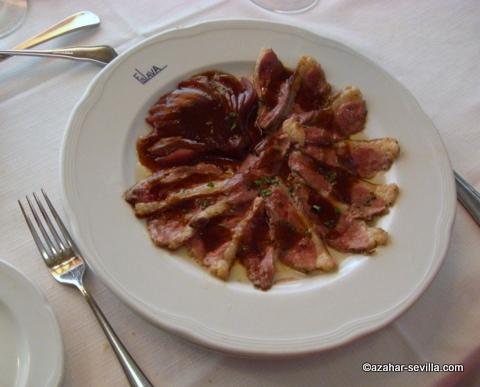 duck breast with roasted pears
~ back to top ~





Updated: March 2014