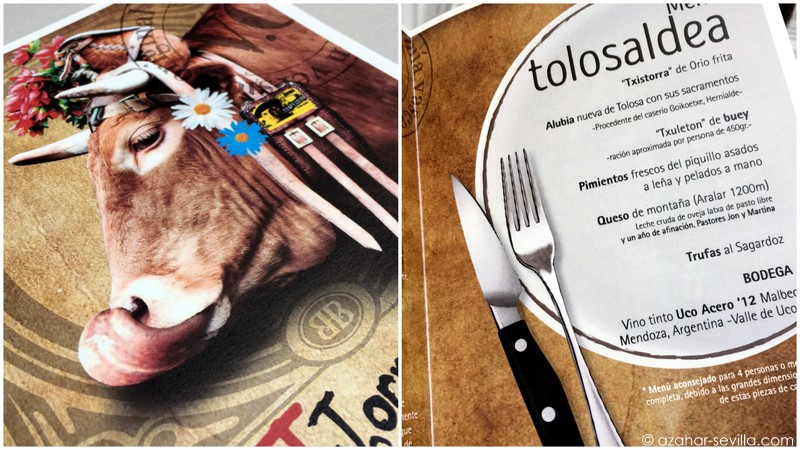 From November 14th to December 11th Grupo Sagardi is running the XII Jornadas Gastronómicas del Buey (Ox Gastronomic Season), celebrating the traditional homeland cooking of its Basque founder, Iñaki Lopez de Viñaspre, and master butcher Imanol Jaca. I was lucky enough to be one of the around 50 people invited to the Sevilla inauguration of the new menu at the Sagardi Restaurante in the Hotel Palacio Pinello.
It proved to be an interesting and enjoyable experience in pleasant surroundings, though of course the stars of the show were the traditional Basque dishes, and in particular the txuletón (T-bone steak) of aged Galician beef. These are taken from selected cows of between 6 and 10 years of age to give the right balance of lean and fat, and are then aged in a cold room for 25 days before being prepared for the kitchen, where they are sliced and charcoal grilled to medium rare perfection. The result was both tender and very tasty, and well complemented by the fresh pimientos (peppers) del piquillo that came with them, as well as the Argentinian Malbec (Uco Acero '12) chosen to accompany the meal.
Before that the meal started with a taster of bresaola (a thinly sliced air dried salted beef). This was followed by a Basque speciality, "Alubia nueva de Tolosa con sus sacramentos", a rich dark bean stew served with morcilla, cabbage and guindilla peppers. It's quite rare as it has a very local provenance, but if you ever get the chance to try it, do so. It's delicious.
After the main course came a lovely sheep's cheese called Montaña Aralar, walnuts, and some dark chocolatey truffles as a sweet.
Many thanks to Grupo Sagardi for organising this event, and to the Hotel Palacio Pinello for hosting it. It was a delicious meal much enjoyed by everyone. You can book at Sagardi Sevilla +34 954 563 156. Because of the size of the meat cut it is recommended for groups of four.